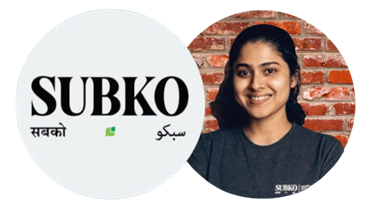 Neha Joshi-Subko Coffee
"Every women's success should an inspiration to another. We're strongest when we cheer each other on"
-Serena Williams
With International Women's Day on the horizon, we at JD have identified the super women of the f&b industry. Neha Joshi of Subko
Neha Intro – is a pastery chef by profession and joined Subko to handle operations which eventually led to Neha overtaking a larger role in operations. Managing operations of two main cafes, staying in touch with business partners to oversee the mini setups, managing Ops and HR duties quite efficiently
JD's support – JD came into the picture when Subko was looking into getting the 2nd outlet and realized that logistics solutions will be needed to ensure support in building the brand. Through research came across Mansi and JD. JD has helped along the way with not only figuring out best routes but also optimizing costs. Its become a strong working relationship so far. We have had minimal issues in the past 7 months we have been working together.
Words of Wisdom – Its tough and you always are gonna be looked at in a lot of ways as less than, but when you do find an environment and team that supports you, you should thrive. A lot of times you're gonna have to work twice as hard to prove yourself and that's something you need to push forward till you find a team that encourages you and supports you, and helps you grow further.
Mansi Shetty Bafna-Vanilla Miel
"Feminism isn't about making women strong. Women are already strong. Its about changing the way the world perceives that strength."
– G.D.Anderson
Mansi intro – background is of a lawyer but family has been in food industry for around 45 years. My sister was shuffling between jobs between Melbourne, Paris. We organically came up with Vanilla Miel, it wasn't something they sat down and had to discuss
JD's support – Lockdown was a blessing in disguise as it was a sharp increase in sales and led to us getting our own logistics but JD is still someone they rely on for bulk orders. We've had our ups & downs, but JD still is very accommodating according to our various requirements
Words of Wisdom – I don't have any advice for a specific group as such as I don't there isn't a difference between male entrepreneurs and female entrepreneurs, its just that you need grit and determination to make it work regardless of a time line as it can take 5 days to make your business work or it can take 5 years to build your brand. The choice is yours
Annie Bafna-Nutcracker
"Women are the largest untapped reservoir of talent in the world."
– Hillary Clinton
Q – What inspire you to come up with Nutcracker and Journey so far?
A – My background isn't actually f&b. I have 7 years of experience in Finance and then shifted to more business-oriented roles. I had taken a break when my daughter was about 2years old, its was first time in 14-15 years where I didn't work and the first two months it was great. But then I just thought that I'm just sitting at home and what am I gonna do and I was at a point where I knew this is something I want to do. And even with no experience as I've always had a passion for food and have felt the most joyful. After two career changes, I decided that this is my calling. But I didn't have the mental strength to go for it and Siddharth, my husband, literally was like go for it, just jump for it and I'm here and I need to give it a shot
Q – JD's Support
A – JD being a logistics partner helped us to make sure that at each of our restaurants on a daily basis, we are able to deliver fresh produce that's made in the back kitchen. During covid, what was amazing was the flexibility that JD showed, we obviously realized that business isn't strong for us to manage daily deliveries. We had to cut down to maybe doing deliveries to 3-4 times a week, so JD was really flexible with our schedule. The situations also kept changing, so sometimes we'd need twice a week, sometimes it'd be thrice to the same outlet and 5 times to another. We had these constantly changing variables and JD always supported us through that and kept being flexible based on our requirements and I think that was really incredible and allowed us to maintain this freshness at a time when sales are low and times were hard
Q – Words of Wisdom
A – A lot of people are now looking into changing professions, not necessarily switching to f&b, but switching generally, and thats great. My only and biggest advise would be for people, when they are deciding to take the plunge, there is anxiety and all of that, but I think the few things that really work is to go in with a solid plan, especially financially because what tends to happen is sometimes the model you're planning for may not be very sensible. So to take time when you pre plan to go over everything, and to really go in with enough funds such that you can stretch to as long as you need to, till point to where you become profitable because otherwise you burn your fingers and get disheartened